When I was a kid, somewhere in high school, I probably thought sixty-somethings were from prehistoric times; I also bought my first serious camera, a Mamiya-Sekor DTL 2000(?) 35mm SLR (Mamiya only makes medium format nowadays)–on lay-away from Denholm & McKay. Before recorded history cities mostly had local department stores; and Macy's was in New York–you had to go there to go to Macy's. My best friend got a Nikkormat. That was Nikon's economy brand–a solid, quality SLR none the less. I usually tell people I have been a photographer since about 1973, the year I began learning to work in the darkroom, but that's just a convenient time to label as my beginning.
It was a step up from a long growing interest. I enrolled in a continuing ed course in black & white photography at the Worcester Art Museum (worcesterart.org) for two semesters. Dennis Wixted was a patient, encouraging, and thorough teacher who, in addition to technique, taught photography's history and the contempory scene. At his wake I was just one of many who shared their appreciation of his teaching and friendship with members of his family. I labored with the camera to do assignments and take personal shots, thinking about the camera settings, the light, the film… I think I thought more than I shot. It was a job for me to expose all the frames on a roll of film. Eventually, I started buying 24 exposure rolls of 35mm film, 36 exposures being the other common packaging, a little less challenging to finish.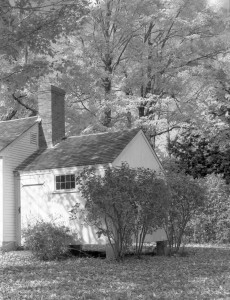 For most of my later film photography before I changed to primarily digital cameras I used a Bronica ETRS. Here's one of my images from that camera. The maple trees in the background were at the height of their blazing orange autumn foliage. I used an orange filter on the front of my lens to brighten the leaves that were in full sun to nearly white in my print.
Next time I go over to the dark side and start using digital cameras. Eveything is the same if you think about it.